Services
What we can assist you with:
Engineer Supply - With Robotic Total Station and Automatic Level
An engineer with the all there own tools and equipment along with a Robotic Total Station and Automatic Level along with a wealth of experience and expertise. The advantages of employing a site engineer with a Robotic Total Station can quickly be realised, as little to no assistance is required allowing the site engineer to complete most surveying and engineering tasks by themselves. Which in turn means labour resources are not diverted to site engineering and the engineer is more efficient as there production is not dependant on potentailly inexperienced labour.
Site Engineering - Package Contractor
Check original Survey Control, establishing additional control as required.
Carry out OGL (Original Ground Level) survey prior to commencing works - agree with client
Checking Construction issue drawings.
Issuing RFI/TQ's to client/Design team as required.
Complete setting out as required, anticipating requirements and progressing to be ahead of the workforce.
Completing take-offs and compiling schedules as required.
Maintaining accurate records.
Measure stockpiles and calculate volumes.
Complete and maintain As-Built surveys and records.
Assist the site team as required to deliver the project.


Site Engineering - Principal Contractor
Check original Survey Control.
Carry out OGL (Original Ground Level) survey to verify grounds levels.
Establish site Control for Project/Work Package Contractors.
Checking Construction Issue drawings, issuing RFI/TQ's as required.
Maintain communication with Design Team and Work Package Contractors for any setting out information required.

Complete setting out package contractors without engineering resources, for example:

Piling/Working Platforms

Hoarding/Fencing

SFS

Brick and Block work

Internal trades

Assist site team in visualising project: setting out features.

Check and monitor Package contractors setting out and compliance.

Carry out As-Built Surveys and maintain As-built Records

Record the installation of new services and utilities.

Complete surveys for any off site manufactured items.

Assist Site team with management, supervision, records and Quality as required.
Site Datum's and Level Control:

Establishing a consistent and accurate Datum level throughout any building project is an important and affects all trades from:
Brickwork
Cladding
Lifts
Internal walls/partitioning
Failure to maintain level control throughout the build can potentially lead to the following problems onsite:
Brickwork out of gauge
Structural opening head heights incorrect to accept doors and windows
No level control for screed finishes to rooms – potentially affecting internal doors installation.
An example of pitfalls of failing to mainatain level control/datums throughout the project:
" The photographs below show the results from returning to a project, before leaving the project datum's had been established throughout the project and the internal partitions had commenced working to the datum's provided. The project was divided between two Building Managers each managing their own section, the first Building Manager requested a return visit, during which datum levels where transferred to individual rooms for the screeding contractor. The second Build Manager never requested a return visit and had a few of their own datum transferred from which the screeding contractor was expected to transfer to individual rooms. These datum's did not relate to the already established site datum by AJB Setting Out, which the internal partitions contractor had used when setting the door head heights. The erroneous datum's where between +11mm and +13mm high, resulting in the screed being laid high which in turn resulted in several door heads requiring adjustment to accommodate the doors. All the alteration works had to be completed on dayworks as the partition contractor had worked to the datum and the screeding contractor had worked to the 'datum' provided resulting in the principal contractor having no recourse but to absorb all the costs. All of this could have been avoided had level control been maintained consistent throughout the project."

Survey Instrument Hire: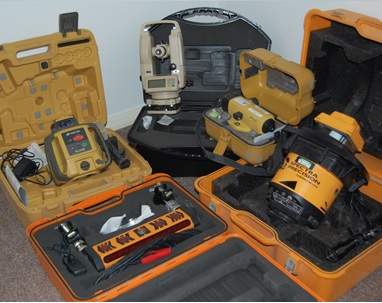 All instruments are regularly calibrated and maintained in accordance with the manufacturers tolerances and specification, in accordance with the laboratory accreditation requirements of both the United Kingdom Accreditation Service and ISO 17025.
Topcon AT-B4: Automatic Level
Profile PTH-10: Digital Theodolite

Topcon RL-H4C: Rotating Laser Level

Spectra Precision 1145: Dual Grade Rotating Laser

Geo Fennel FM 706: Machine Control Laser Receiver - Clamp and Magnectic Mounts

C Scope - Cable Avoidance Tool

Full Traverse kit
Checking Role - Quality Control and Assurance
Quality Assurance is an important part of any project and adequate record keeping is fundamental. AJB Setting Out has devised the Think Quality Work initiative; this can be divided in to two parts both with the focus on quality, which are as follows: 
Think Quality: the SEG: Best Practise highlighting issues and raising points for discussion ahead of the works taking place. Attempting to anticipate quality issues encountered during activities.
Quality Work: the Quality Assurance checklists to check and monitor the works as they proceed, knowledge management based. Designed to educate and inform novices or reinforcing the knowledge already developed.
AJB Setting Out is conscious of the needs of contractors and can assist in the following ways, managing your Quality assurance onsite by:
Completing QA Checklist – Specially designed in house for the construction, with knowledge of the industry. The QA checklist are Knowledge Management based, logically constructed and prompt the user as to the 'what' and 'when' items such be inspected. Our QA checklist can be found here and examples of completed forms here.

Liaising with third parties and statutory bodies on the inspection of items as required prior to proceeding with concrete pours etc

Concrete QA – An important part of any construction project. AJB Setting Out can supply and supervise the sampling, production and storage of all onsite concrete testing. Collating and monitoring the flow of test results for reporting and distribution to third parties and statutory bodies
Level Surveys
As-built Checks and Surveys
House/Plot Setting Out Service
Why have your Plot Set out?
Setting out your plot should be one of the first activities to be completed and any mistakes at the start of project will create costly mistakes later on in the build. Combine this with the cost of materials and disposal of excavated material does it not make economical sense to set it out right from the start and avoid the potential issues.
What is involved?
Using the drawings supplied, the plot will be accurately located on the site, avoiding all the potentially costly errors that could be made if you where to set out your own plot and make a mistake.
This whole process of setting out your plot would be undertaken in two separate visits:-
Visit One:
TThe centre line of your footings will be set out. Marking out the centre of the footing avoids the issue of having to remember any offsets if setting out face lines and also provides a better tolerance for construction.
This is done using a robotic total station with either a timber peg and nail or alternatively a steel pin marking the points, from which lines can be pulled and the ground marked prior to commencing the excavation.
The Finished Floor Level (FFL) will be established to allow the foundations to be excavated and concrete poured correctly and a drawing showing the setting out completed supplied.
Visit Two:

Once the foundations have been poured and completed, the sub-structure brick/block work is marked out on the foundation using a robotic total station.
The brick/block work is marked out using nails set into the concrete at the corners and changes of direction.
The Top of Concrete (TOC) will be checked and a drawing supplied with the setting out completed.
How much would it cost?
The cost of setting out your plot is determined by the complexity of the design and is based entirely on travel distance and the time required for us to complete the setting out. Each project is unique and so we don't offer a one off fee, we price each project individually to ensure that we can offer value for money and tailor our services to your requirements.
Interested?
If you are interested in receiving a no obligation quote for setting out your plot, simply complete our House Plot Setting out Enquiry Form and return along with a Foundation Plan and a Site Plan. The form is quick and simple and asks a few questions about the timescales involved and build to ensure we can clearly identify your requirements and provide you with a comprehensive quote. Our brochure is available again the process of setting out your plot and how to proceed with obtaining a quote.
The quote will be inclusive of both visits and all the necessary sundries and materials for us to complete the setting out.
Alternatively should you require more information or to discuss your particular project further use the contact form on the website or send your completed enquiry form to This email address is being protected from spambots. You need JavaScript enabled to view it. along with any drawings you may have for the project.
Stockpile Volume Surveys
Supervisory Role
Photographic Dilapidation Survey and Report
During the course of any construction project some disruption and minor deterioration will occur to access routes. Typically neighbours and resident who are potentially against the development may seek to use this against the contractor and this combined with the ever increasing 'compensation culture' is a case for a comprehensive photographic dilapidation report before construction commences.
A photographic Survey Report will record the condition and extend of any damage to:-  
Roads/access routes. 

Footpaths.

Neighbouring boundary lines/perimeter of the project.

Extend of fly tipping on or adjacent the site.
This will enable you to rebuff any bogus or incorrect claims of damage to road surfacing, boundary fences or footpath surfacing, both during and after the construction project. A report offers a better solution to simply a series of photographs with no clear location or description:-
As it strengthens your case, in the event of any claims/dispute.

More professional than a series of photographs

Provides a clear and transparent report showing the date and time the survey was completed.

Supplies you with a document you can issue your client/employer before commencing onsite. 
Examples of Past Photographic Dilapidation Reports:
Willmott Dixon: Bankview and Redbridge School – Long Lane
Willmott Dixon: Bankview and Redbridge School – Boundary with Properties
Willmott Dixon: Millstead SEN: Iliad Street and Prince Edwin Street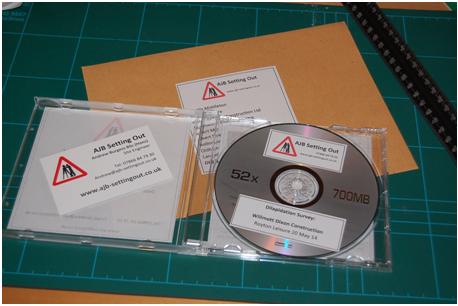 Upon completion of a Photographic Dilapidation Survey Report, a pdf report is issued electronically to the client along with CD containing the report and the images. If your interested in having a photographic survey report completed please the 'contact form' on the website.
Interested?
Use the contact form on the website to discuss your requirements.
Site Photography - Progress
Boot Wash - Supply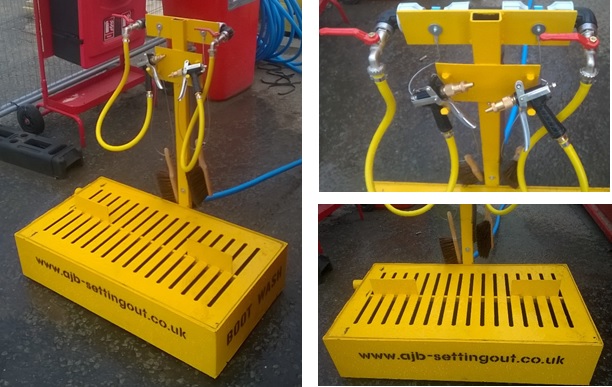 AJB Setting Out have been manufacturing and supplying Boot Washes for over two years, initially as a one off production to assist a client on a particularly muddy project, find an economical method to improve the general conditions and the presentation of the project. The design has been adapted and modified with each unit manufactured and evolved into our current model and is currently proving to be sucessful on the sites supplied to date.
Measuring just 900mm x 500mm ourcompact boot wash is large enough to cope with the demands of any site, assisting in managing and avoiding the issue of muddy footwear contaminating the site welfare accommodation.
The ingress of mud into any site welfare accommodation prematurely wears floor coverings, creates a negative image of the site and the site team and has the potential for increased slips trips and falls.
Constructed using mild steel with a 200mm deep tray to contain washed off material, with removable grate for periodic de-silting and a 50mm waste water run-off outlet.
This boot wash requires no mechanical plant to manoeuvre or install as the compact size is easily manually handled. The only attendance required is a 25mm MDPE water connection.
Each Boot wash is fitted with as standard:
• Two Lever Taps.
• Two Heavy Duty PVC Hoses with Brass Trigger Guns.
• Two Stiff Hand Brushes - complete with security wires.
• Two boot scraper plates fitted to the grate - for removing build ups of clays on footwear treads
• Base unit fitted with security anchorage loop.
• Each unit comes complete with a Correx sign for displaying adjacent the bootwash/site welfare, pictured below.