Hire
Safety: Always a Priority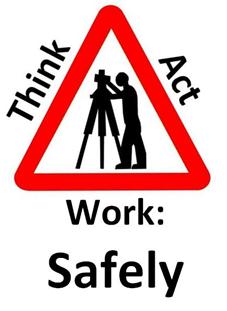 Four words: - THINK, ACT, WORK: SAFELY, combined make more than a simple sentence but a cultural based safety initiative.
At AJB Setting Out Limited we believe that safety on site is important and should be the concern of everyone working onsite.
With this in might the safety and welfare of those we are working alongside or who maybe affected by our works is always at the forefront of our mind
Health and Safety Qualifications:
CSCS Card
NEBOSH Construction Certificate (Distinction)
First Aid at Work.
Able to provide a comprehensive Risk Assessment for the all site engineering and setting out activities upon request, regularly reviewed and revised to suite working practises and conditions. 
Cable Avoidance
As standard we carry a Cable Avoidance Tool (CAT) to scan working areas ahead of driving in pins and pegs to avoid cable strikes and will always attempt to review service drawings prior to commencing on site if available from the site office. We also carry and use a fibreglass peg and pin holder in the unlikely event of striking a cable when driving pins and pegs. 
Always Arriving Fully Equipped
Our site vehicle is fitted with a flashing beacon and high visibility conspicuity cheverons for use on site.
Equipment loaded, ready for work:
HIRE FLEET EQUIPMENT:
Topcon Hiper SR: Network GPS Rover
Able to withstand 2m pole drop
Features Topcon Fence Antenna and Longlink Technology
Topcon RL-H4C: Rotating Laser Level

800m working range

1.5mm accuracy at 30m

IP66 rating

Suited to all site activities requiring a level laser plane, excavation, trimming and pouring concrete

Used in conjunction with SECO column clamp and Spectra Precision HL450, ideal for concrete slab pours
Topcon RL-SV2S: Dual Grade Rotating Laser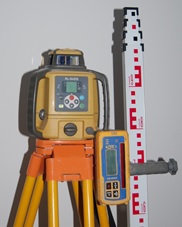 +/- 15% dual grade

IP66 Rating

Suited to use with Dozer, trimming to level

Suited to large hardstanding formation and sport pitches
Geo Fennel FM 706: Machine Control Laser Receiver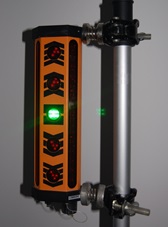 360o Reception Radius

200m working range

Accuracy High: +/- 2mm to +/- 10mm

Accuracy Low: +/-5mm to +/- 23mm

IP66 rating

Ideal suited to dozers trimming formation or capping materials forming working platforms

C

an be used with either RL-H4C and RL-SV2S
Spectra Precision HL450 Laser Receiver
LCD Screen with +/-40mm to 1mm accuracy reading

Anti-Strobe Technology to prevent false readings

Large reading window

IP67 rating

Ideal suited to Concrete Pours
C Scope DXL4 (Cable Avoidance Tool) and SGV4 (Signal Generator)
Data logging
C Scope AlarmZone TM for short length cables, small diameter and non earthed cables
Continuous Signal Generation: 33 Hz and 131 Hz
Depth reading when used with Signal Generator